Laura is waiting to treat you to a unique floral experience; astonishingly colourful and fragrant flowers await you!
Frida's Torino Porta Susa guarantees flower delivery to neighbouring area (buy flowers online Torino).
Via Duchessa Jolanda, 7 – Torino (TO)
Tel./Cell: +39 327 5914145
torinoportasusa@fridas.it
OPENING HOURS
Monday – Saturday: 9:30am – 7:30pm
Domenica: 10am – 1pm
The opening hours indicated above can vary in compliance with the COVID restrictions provided by the Prime Ministerial Decree and by regional ordinances. We suggest you contact the store directly.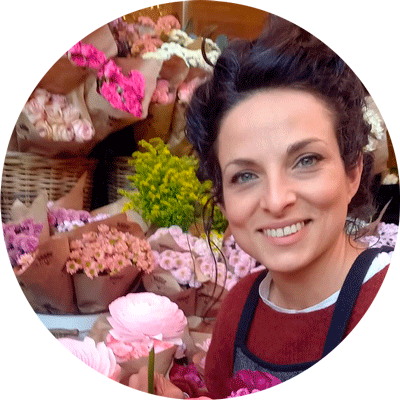 A FEW WORDS WITH
Laura
Creativa, sognatrice e "spettinata" per indole.
Negli anni degli Studi ho fatto in modo di far coincidere queste mie qualità con l'altro aspetto importante di me, il gusto per la precisione ed i dettagli.
Sono nata a Firenze e probabilmente ispirata dal contorno mi sono formata nell'ambito della moda per poi prendere una specializzazione in modellistica.
Show more
FRIDA'S IS WITH YOU
The first contact is never forgotten. This is why we make sure that each of your requests is treated with care and the greatest attention by our dedicated team.
Fill out the form and start your experience with Frida's

Fill out with your personal data.
FRIDA'S NEWS
How to bloom your Inbox.
Sign up to Frida's Newsletter and every month you will receive creative tips about our floral world. We talk about beauty, creativity, colours, floral culture and many other curiosities.