Sharon is waiting to treat you to a unique floral experience; you will find astonishingly colourful and fragrant flowers!
Frida's Roma Prati guarantees flower delivery to neighbouring area (buy flowers online) Roma Prati.
Via dei Gracchi 54B
Tel./Cell: +39 338 9434169
OPENING HOURS
Monday – Saturday: 9.30 am – 7 pm
Sunday: 9.30 am – 1 pm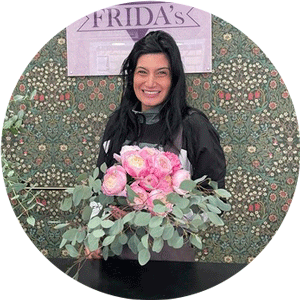 A FEW WORDS WITH
Sharon
Ciao sono Sharon, una sognatrice solare e con tante passioni, tra cui quella per i fiori.
Qualche anno fa, grazie ad una mia amica ho avuto la possibilità di avvicinarmi all'arte del flower design e ho scoperto un mondo bellissimo.Da allora ho iniziato collaborazioni di vario genere con delle splendide persone che mi hanno insegnato tutto quello che c'è dietro il mondo dei fiori e la magia delle composizioni.
Oggi, con impegno e determinazione quella passione è diventata un lavoro, che porto avanti seguendo i principi di eleganza e originalità che mi guidano da sempre.
Ho scelto Frida's perché mi sono innamorata dei loro negozi e del loro stile.
FRIDA'S IS WITH YOU
The first contact is never forgotten. This is why we make sure that each of your requests is treated with care and the greatest attention by our dedicated team.
Fill out the form and start your experience with Frida's.

Fill out with your personal data.
FRIDA'S NEWS
How to bloom your Inbox.
Sign up to Frida's Newsletter and every month you will receive creative tips about our floral world. We talk about beauty, creativity, colours, floral culture and many other curiosities.