Clarice is waiting to treat you to a unique floral experience; astonishingly colourful and fragrant flowers await you!
Roma Porta Pia guarantees flower delivery to neighbouring area (buy flowers online Roma Porta Pia).
Via Ancona, 13 – Roma Porta Pia (RM)
Tel./Cell: +39 0687654384
OPENING HOURS
Monday – Saturday: 9 am – 7 pm
Closed Sunday
The opening hours indicated above can vary in compliance with the COVID restrictions provided by the Prime Ministerial Decree and by regional ordinances. We suggest you contact the store directly.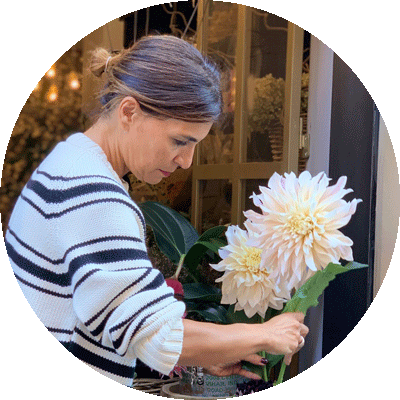 A FEW WORDS WITH
Clarice
My name is Clarice and I live in Rome with my husband and our two children.
For years I worked in corporate event organisation for important multinational companies. I held a high-profile position of great responsibility, which also required extensive international travel. When my second daughter was born, I decided to take stock of my life to understand what advantages this profession offered me and how sustainable this lifestyle was for my family.
Show more
FRIDA'S IS WITH YOU
The first contact is never forgotten. This is why we make sure that each of your requests is treated with care and the greatest attention by our dedicated team.
Fill out the form and start your experience with Frida's.

Fill out with your personal data.
FRIDA'S NEWS
How to bloom your Inbox.
Sign up to Frida's Newsletter and every month you will receive creative tips about our floral world. We talk about beauty, creativity, colours, floral culture and many other curiosities.