Frida's Palermo
Gaia is waiting to treat you to a unique floral experience; you will find astonishingly colourful and fragrant flowers!
Frida's Palermo guarantees flower delivery to neighbouring area (buy flowers online Palermo)
Via villa Filippina, 19
Tel./Cell: +39 0916330352 / +39 342 771 7462
palermo@fridas.it
OPENING HOURS
Monday – Friday: 9:30am – 1:30pm Ι 3:30pm – 7:00pm
Closed Sunday and Monday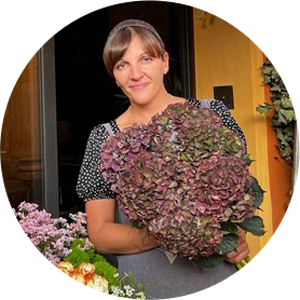 A FEW WORDS WITH
Giulia
Sono una persona solare, intraprendente e, come dicono tutti, un pò iperattiva!
Fin da piccola ho maturato una passione per la natura, con i suoi colori e le sue magie, gli animali, anime pure, e tutte le forme di espressione artistica.
La mia formazione e le mie esperienze professionali pregresse mi hanno permesso di acquisire un forte senso pratico ed organizzativo e di maturare il mio desiderio di essere autonoma ed indipendente, ma hanno anche lasciato un vuoto in ambito creativo, da colmare.
Show more
FRIDA'S IS WITH YOU
The first contact is never forgotten. This is why we make sure that each of your requests is treated with care and the greatest attention by our dedicated team.
Fill out the form and start your experience with Frida's.

Fill out with your personal data.
FRIDA'S NEWS
How to bloom your Inbox.
Sign up to Frida's Newsletter and every month you will receive creative tips about our floral world. We talk about beauty, creativity, colours, floral culture and many other curiosities.