Serena is waiting to treat you to a unique floral experience; astonishingly colourful and fragrant flowers await you!
Frida's La Spezia guarantees flower delivery to neighbouring area (buy flowers online) La Spezia.
Piazza Verdi, 8
Tel./Cell: +39 338 7425928
laspezia@fridas.it
OPENING HOURS
Monday – Friday: 9:30 am – 12:30 pm Ι 3:30 pm – 7:30 pm
Saturday: 9:30 am – 7:30 pm
Sunday: 9:30 am – 12:30 pm
The opening hours indicated above can vary in compliance with the COVID restrictions provided by the Prime Ministerial Decree and by regional ordinances. We suggest you contact the store directly.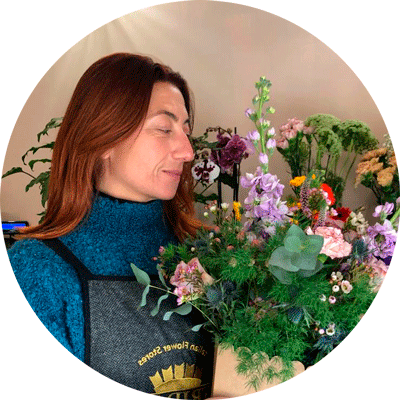 A FEW WORDS WITH
Serena
Mi sono laureata in Scienze Ambientali indirizzo marino a Ravenna, i miei piani prevedevano il mare e di rimanere per un pò in terra romagnola, ma così non è stato, almeno per quanto riguarda la sede.
Sono tornata a casa, alla Spezia e nel 2006 ho iniziato a lavorare al Parco Naturale Regionale di Porto Venere occupandomi principalmente dell'area protetta marina. Seguivo e ideavo progetti, oltre che iniziative, eventi ed attività legate alla tutela e salvaguardia del mare. Mi sono dedicata anche all'educazione ambientale e sostenibile nelle scuole e non solo. Ho vissuto anni fantastici, immersa nella Natura e a contatto con persone meravigliose con cui condividere la mia passione!
Show more
FRIDA'S IS WITH YOU
The first contact is never forgotten. This is why we make sure that each of your requests is treated with care and the greatest attention by our dedicated team.
Fill out the form and start your experience with Frida's.

Fill out with your personal data.
FRIDA'S NEWS
How to bloom your Inbox.
Sign up to Frida's Newsletter and every month you will receive creative tips about our floral world. We talk about beauty, creativity, colours, floral culture and many other curiosities.