Paola is waiting to treat you to a unique floral experience; astonishingly colourful and fragrant flowers await you!
Castel San Pietro Terme guarantees flower delivery to neighbouring area (buy flowers online Castel San Pietro Terme).
Via Giacomo Matteotti 113 – Castel San Pietro (BO)
Tel./Cell: +39 0510412350 +39 3469588373
OPENING HOURS
Monday – Saturday: 9:00 am – 1:00 pm | 4:00 – 7:30 pm
Sunday: 9 am – 12:30 pm
Closed Wednesday
The opening hours indicated above can vary in compliance with the COVID restrictions provided by the Prime Ministerial Decree and by regional ordinances. We suggest you contact the store directly.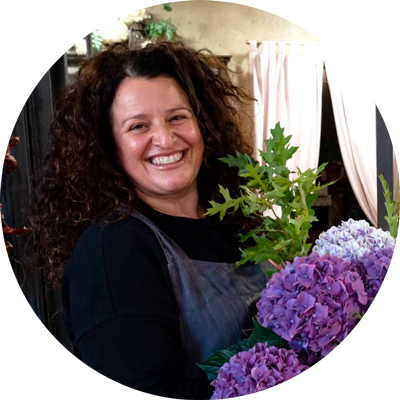 A FEW WORDS WITH
Paola
I am a very creative and determined person.
I was born in Tuscany, brought up in Romagna and moved to Castel San Pietro Terme for love.
At just 16 years of age, while continuing my studies, I began working as an embroiderer in a fabric company.
I watched stylists create high fashion clothes and was fascinated by their handiwork. From that moment on, I started taking handicraft courses to cultivate my artistic passion as I was also already dreaming of creating something for myself. I later worked as a salesperson, a labourer and office worker. In my last job as an employee I worked in the technical department and later in the administrative buying department of a large company.
Show more
FRIDA'S IS WITH YOU
The first contact is never forgotten. This is why we make sure that each of your requests is treated with care and the greatest attention by our dedicated team.
Fill out the form and start your experience with Frida's.

Fill out with your personal data.
FRIDA'S NEWS
How to bloom your Inbox.
Sign up to Frida's Newsletter and every month you will receive creative tips about our floral world. We talk about beauty, creativity, colours, floral culture and many other curiosities.