Giulia is waiting to treat you to a unique floral experience; astonishingly colourful and fragrant flowers await you!
Frida's Busto Arsizio guarantees flower delivery to neighbouring area (buy flowers online Busto Arsizio).
Via Cardinal Tosi, 5C – Busto Arsizio (VA)
Tel./Cell: +39 347 2755905
bustoarsizio@fridas.it
OPENING HOURS
Monday – Saturday:  9:30 am – 12:30 pm | 3:30 pm – 7:00 pm
Sunday: 9:30 am – 12:30 pm
The opening hours indicated above can vary in compliance with the COVID restrictions provided by the Prime Ministerial Decree and by regional ordinances. We suggest you contact the store directly.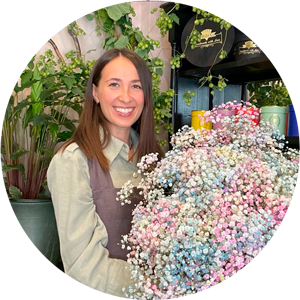 A FEW WORDS WITH
Giulia
Aprire una piccola Boutique di fiori nel centro cittadino di Busto Arsizio, non era sicuramente nei miei pensieri 10 anni fa quando, di ritorno da una lunga avventura negli Stati Uniti, iniziai a lavorare a Milano nel retail di un grande brand di gioielleria made in Italy.
L'indipendenza acquisita oltreoceano unita all'esperienza maturata in questi meravigliosi anni di retail tra eventi, training e un'irrefrenabile voglia di imparare hanno fatto crescere in me il desiderio di uno spazio che potesse davvero dare voce alla mia creatività.
Show more
FRIDA'S È CON TE
Il primo contatto non si scorda mai. Ecco perché ci assicuriamo che ogni tua richiesta venga gestita con cura e con la massima attenzione dal team dedicato.
Compila il form e inizia la tua esperienza con Frida's.

Compila il form con i tuoi dati.
FRIDA'S NEWS
How to bloom your Inbox.
Iscriviti alla newsletter Frida's e ogni mese riceverai pillole creative sul nostro mondo floreale. Nelle news parliamo di bellezza, creatività, colori, cultura floreale e tantissime altre curiosità.