Frida's Budrio
Elena is waiting to treat you to a unique floral experience; you will find astonishingly colourful and fragrant flowers!
Frida's Budrio guarantees flower delivery to neighbouring area (buy flowers online Budrio).
OPENING HOURS
Monday – Saturday: 9:00am – 12:30pm Ι 3:00pm – 7:30pm
Sunday: 09:00am – 12:30pm
Closed: Thursday afternoon

The opening hours indicated above can vary in compliance with the COVID restrictions provided by the Prime Ministerial Decree and by regional ordinances. We suggest you contact the store directly.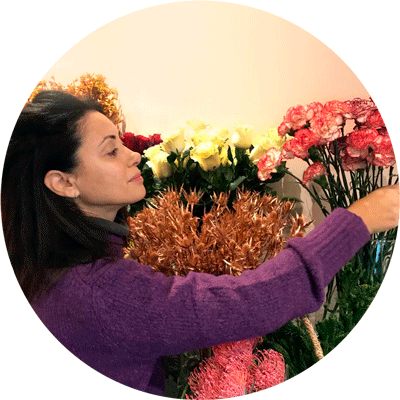 A FEW WORDS WITH
Elena
Il mio progetto in Frida's è nato in un momento di grande trasformazione.
Quando decidi di voltare pagina e iniziare nuove avventure ti accorgi che stai per vivere i momenti più belli in assoluto, tutto può essere ricreato e inizi a dare spazio a te, alle passioni, alle idee e alla creatività.
Dopo tanti anni trascorsi nel settore dell'istruzione ho percepito l'importanza di trasmettere valori di bellezza come il decoro del fiore nella propria tavola di casa.
Show more
FRIDA'S IS WITH YOU
The first contact is never forgotten. This is why we make sure that each of your requests is treated with care and the greatest attention by our dedicated team.
Fill out the form and start your experience with Frida's.

Fill out with your personal data.
FRIDA'S NEWS
How to bloom your Inbox.
Sign up to Frida's Newsletter and every month you will receive creative tips about our floral world. We talk about beauty, creativity, colours, floral culture and many other curiosities.