Frida's Bergamo
Giulia is waiting to treat you to a unique floral experience; you will find astonishingly colourful and fragrant flowers!
Frida's Bergamo guarantees flower delivery to neighbouring area (buy flowers online Bergamo)
OPENING HOURS
Tuesday – Saturday: 9:30am – 12:30pm Ι 3:30pm – 7:30pm
Sunday: 10am- 1pm
Closed Monday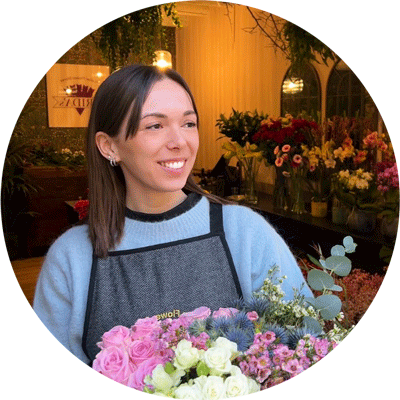 A FEW WORDS WITH
Giulia
Dopo il mio percorso di studi ho provato diversi lavori: dalla commessa fino alla Graphic Designer in una grande realtà, che mi ha costretta alla monotonia di un ufficio. Nel frattempo non sono mai stata ferma e mi sono messa alla prova come fotografa.
Ed è proprio grazie ad uno shooting in occasione di un workshop di Frida's Crema che, nell'autunno del 2021, mi sono resa conto di quanto amassi i fiori;
Show more
FRIDA'S IS WITH YOU
The first contact is never forgotten. This is why we make sure that each of your requests is treated with care and the greatest attention by our dedicated team.
Fill out the form and start your experience with Frida's.

Fill out with your personal data.
FRIDA'S NEWS
How to bloom your Inbox.
Sign up to Frida's Newsletter and every month you will receive creative tips about our floral world. We talk about beauty, creativity, colours, floral culture and many other curiosities.