Frida's Bassano
Marisol is waiting to treat you to a unique floral experience; astonishingly colourful and fragrant flowers await you!
Frida's Bassano guarantees flower delivery to neighbouring area (buy flowers online Bassano)
OPENING HOURS
Monday – Saturday: 9 am – 12:30 pm / 3pm – 7:30 pm
Sunday: 9 am / 12:30 pm
Closed Monday morning and Sunday afternoon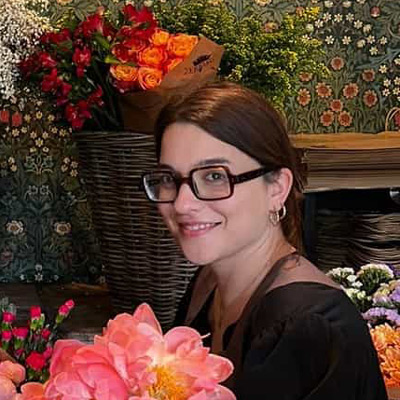 A FEW WORDS WITH
Marisol
Diplomata in Design del prodotto e laureata in Architettura, i miei piani futuri prevedevano una bella carriera in uno studio rinomato del settore. Rimango sempre piacevolmente sorpresa di come la vita, però, sappia regalare cambi di rotta alle volte del tutto imprevedibili e inattesi.
Ricordo bene come mi brillarono gli occhi quando, passeggiando per Bologna durante una gita fuori porta, vidi per la prima volta la vetrina di Frida's in via Drapperie. I colori di quei fiori mi fecero sognare ad occhi aperti e mi portarono indietro nel tempo, al ricordo del giardino della nonna Agnese e degli iris selvatici piantati dalla mia mamma.
Show more
FRIDA'S IS WITH YOU
The first contact is never forgotten. This is why we make sure that each of your requests is treated with care and the greatest attention by our dedicated team.
Fill out the form and start your experience with Frida's

Fill out with your personal data.
FRIDA'S NEWS
How to bloom your Inbox.
Sign up to Frida's Newsletter and every month you will receive creative tips about our floral world. We talk about beauty, creativity, colours, floral culture and many other curiosities.