Ilaria is waiting to treat you to a unique floral experience; astonishingly colourful and fragrant flowers await you!
Rovigo guarantees flower delivery to neighbouring areas (buy flowers online Rovigo).
Piazza Vittorio Emanuele, 36 – Rovigo (RO)
Tel./Cell: +39 04251540246
rovigo@fridas.it
OPENING HOURS
Monday: 3:30 – 7:30 pm
Tuesday – Saturday: 9 am – 12:30 pm | 3:30 – 7:30 pm
Sunday: 10 am – 1 pm
The opening hours indicated above can vary in compliance with the COVID restrictions provided by the Prime Ministerial Decree and by regional ordinances. We suggest you contact the store directly.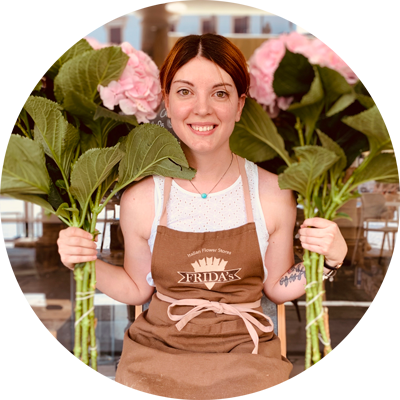 A FEW WORDS WITH
Ilaria
I've been a young and independent woman for some time now, in fact, since I moved to Florence when I was just 15 years old. I had passed the audition for entrance to the Tuscan school of Ballet. I spent my days there studying dancing, singing and recitation.
This experience opened my mind 360° and taught me a lot in terms of physical and mental resistance, though, after three years, I decided to return home and recommence my studies.
Show more
FRIDA'S IS WITH YOU
The first contact is never forgotten. This is why we make sure that each of your requests is treated with care and the greatest attention by our dedicated team.
Fill out the form and start your experience with Frida's.

Fill out with your personal data.
FRIDA'S NEWS
How to bloom your Inbox.
Sign up to Frida's Newsletter and every month you will receive creative tips about our floral world. We talk about beauty, creativity, colours, floral culture and many other curiosities.