Francesca e Monica are waiting to treat you to a unique floral experience; astonishingly colourful and fragrant flowers await you!
Roma Axa guarantees flower delivery to neighbouring areas (buy flowers online Roma Axa).
Via Euripide 10 – Roma (RM)
Tel./Cell. +39 3384780226
OPENING HOURS
Monday : 9:30 am – 1 pm
Tuesday – Saturday: 9:30 am – 1 pm Ι 4:30 pm – 8 pm
Sunday: 9:30 am – 1 pm
The opening hours indicated above can vary in compliance with the COVID restrictions provided by the Prime Ministerial Decree and by regional ordinances. We suggest you contact the store directly.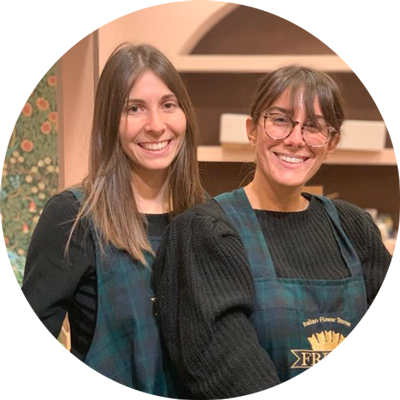 A FEW WORDS WITH
Francesca & Monica
We have been friends for 14 years and come from two completely different professional backgrounds, but now we are finally partners!
The idea of opening a Frida's store came unexpectedly last September, when, with a telephone call and a knowing glance, we understood each other on the fly.
We signed the store even before receiving confirmation from the company.
Show more

Open your own
Frida's Store.
Become part of Frida's family and embrace the profound meaning of our brand: presenting a new idea of flowers in a simple and stylish manner.
Discover our franchising opportunities
FRIDA'S IS WITH YOU
The first contact is never forgotten. This is why we make sure that each of your requests is treated with care and the greatest attention by our dedicated team.
Fill out the form and start your experience with Frida's.

Fill out with your personal data.
FRIDA'S NEWS
How to bloom your Inbox.
Sign up to Frida's Newsletter and every month you will receive creative tips about our floral world. We talk about beauty, creativity, colours, floral culture and many other curiosities..