Loredana and Martina are waiting to treat you to a unique floral experience; astonishingly colourful and fragrant flowers await you!
Genzano guarantees flower delivery to neighbouring areas (buy flowers online Genzano).
OPENING HOURS
Monday – Saturday: 9:30 am – 1:00 pm | 4:30 – 8 pm
Closed Sunday
The opening hours indicated above can vary in compliance with the COVID restrictions provided by the Prime Ministerial Decree and by regional ordinances. We suggest you contact the store directly.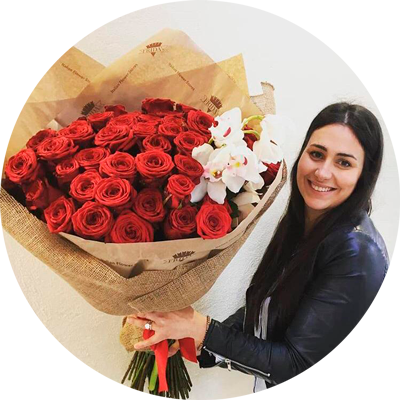 A FEW WORDS WITH
Martina
My professional life began in the world of fashion: for many years I worked as a salesperson in a number of high-profile Italian brand flagship stores. Thanks to my experience in this sector, in 2015 I decided to open a store of my own where I could choose the items of clothing from the collections of various brands. My customers included young women as well as refined older women.
A few years later, I heard that a store would be coming vacant across the street and began fantasising about the possibility of helping my mother open a new commercial activity nearby.
Show more
FRIDA'S IS WITH YOU
The first contact is never forgotten. This is why we make sure that each of your requests is treated with care and the greatest attention by our dedicated team.
Fill out the form and start your experience with Frida's.

Fill out with your personal data.
FRIDA'S NEWS
How to bloom your Inbox.
Sign up to Frida's Newsletter and every month you will receive creative tips about our floral world. We talk about beauty, creativity, colours, floral culture and many other curiosities.