Ecaterina is waiting to treat you to a unique floral experience; astonishingly colourful and fragrant flowers await you!
Frida's Busto Arsizio guarantees flower delivery to neighbouring area (buy flowers online Desenzano).
Via Garibaldi, 56
Tel./Cell: +39 388 0953339
desenzano@fridas.it
OPENING HOURS
Monday and Thursday: 9am – 12pm
uesday, Wednesday, Friday and Saturday: 9am – 6:30pm
Sunday: 10am – 6:30pm
Gli orari sopra riportati possono essere variati in ottemperanza alle restrizioni previste dal DPCM e dalle ordinanze regionali. Vi invitiamo a contattare direttamente lo store.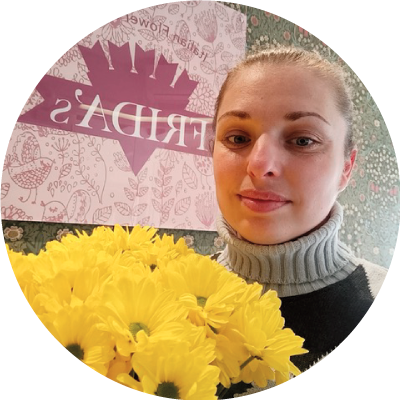 A FEW WORDS WITH
Ecaterina
Sono nata e cresciuta in Moldavia, in totale tranquillità, lontano dal mondo, dalla civiltà e dal progresso e abitavo in campagna, circondata dal verde, dai colori e profumi.
All'università ho scelto di Filologia Italiano/Inglese, una scelta pratica e di prospettiva che mi avrebbe permesso di trovare lavoro facilmente, visto le collaborazioni sempre in crescita tra i paesi.
Infatti, subito dopo la laurea ho lavorato in diversi uffici che richiedevano la conoscenze della lingua Italiana.
Show more
FRIDA'S IS WITH YOU
The first contact is never forgotten. This is why we make sure that each of your requests is treated with care and the greatest attention by our dedicated team.
Fill out the form and start your experience with Frida's.

Fill out with your personal data.
FRIDA'S NEWS
How to bloom your Inbox.
Sign up to Frida's Newsletter and every month you will receive creative tips about our floral world. We talk about beauty, creativity, colours, floral culture and many other curiosities.