Stefano is waiting to treat you to a unique floral experience; astonishingly colourful and fragrant flowers await you!
Frida's Crema guarantees flower delivery to neighbouring area (buy flowers online Crema)
Via Giacomo Matteotti, 6A – Crema (CR)
Tel./Cell: +39 0373259338
crema@fridas.it
OPENING HOURS
Monday – Saturday: 9 am – 12:30 pm / 3 pm – 7 pm
Sunday: 9 am – 12:30 pm
The opening hours indicated above can vary in compliance with the COVID restrictions provided by the Prime Ministerial Decree and by regional ordinances. We suggest you contact the store directly.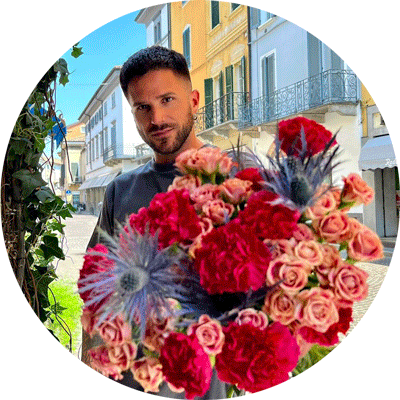 A FEW WORDS WITH
Stefano
Sono nato con un grande passione per le forme d'arte, gli animali e il senso di libertà che solo il contatto con la natura sa donare.
Dopo aver lavorato per 10 anni come visual merchandiser in ambito fashion, ho deciso di cambiare strada.
Cercavo una professione che si avvicinasse maggiormente alla mia indole.
Adoro creare e realizzare piccole opere d'arte con tutto ciò che la natura mi offre e qui con i fiori di Frida's sono libero di esprimermi.
FRIDA'S IS WITH YOU
The first contact is never forgotten. This is why we make sure that each of your requests is treated with care and the greatest attention by our dedicated team.
Fill out the form and start your experience with Frida's.

Fill out with your personal data.
FRIDA'S NEWS
How to bloom your Inbox.
Sign up to Frida's Newsletter and every month you will receive creative tips about our floral world. We talk about beauty, creativity, colours, floral culture and many other curiosities.